This shop has been compensated by Collective Bias, Inc. and Kellogs. All opinions are mine alone. #SnackItAndPackIt #SeasonalSolutions #CollectiveBias
These Pumpkin Patch Rice Krispies Treats take less than 10 minutes, and they look as good as they taste.




We're 14 days away from Halloween and I'm still putting together a few fun recipes to make your "spooky day" even spookier. Since my kiddo is still a bit on the young side, I tend to create kid-friendly Halloween Treats and leave the scary stuff for the older kids.

This week I've partnered with Kellogs and I'm featuring a super simple and adorable Halloween Treat for your upcoming Halloween festivities. Though I didn't necessarily need all the Kellogs Snack Packs pictured below for the recipe itself, I try to keep our house stocked with treats for Little J and her friends around this time of the year. And if we're being honest, I'm a big fan of Rice Krispies Treats®. They've been making memories for kids and parents alike for generations, and it's nice to be able to share that with my own kiddo.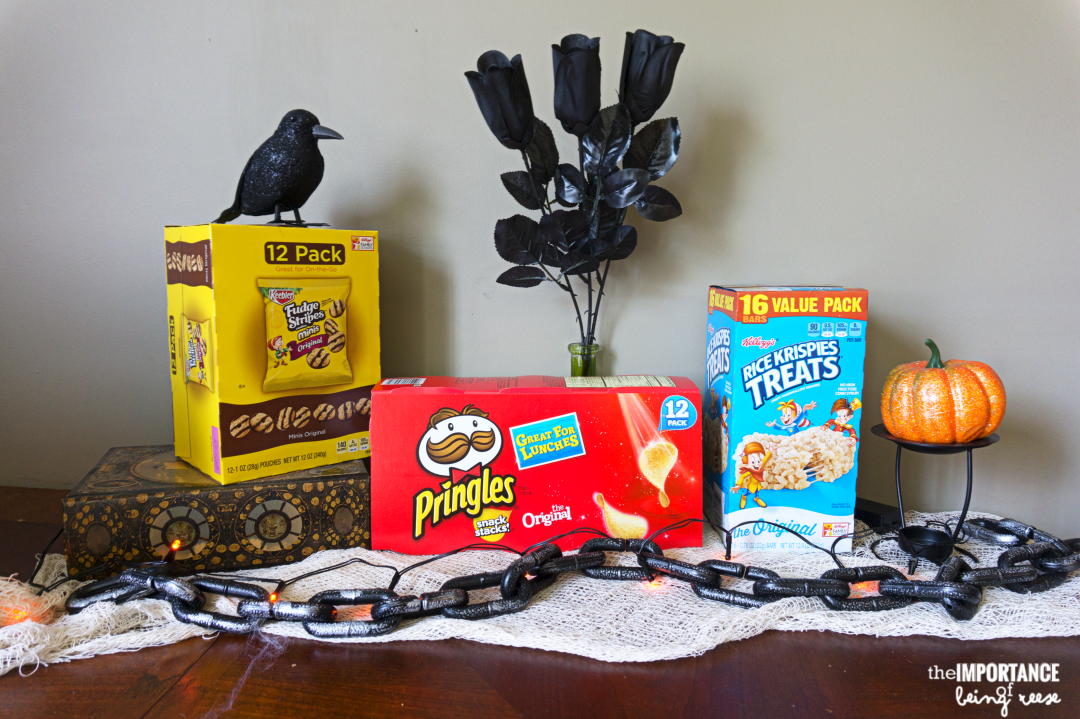 To enable screen reader support, press Ctrl+Alt+Z To learn about keyboard shortcuts, press Ctrl+slash. To purchase the items shown above, simply click the image.
This recipe is about as no-fuss as they come. It involves zero cooking, and very few ingredients. It's so simple your kiddo can easily join in on the fun.
My kinda recipe.
For this treat you will need:
1 Package of OrigInal Rice Krispies Treats
Choclate frosting
Small candy pumpkins
Green decorating icing
Popcicle sticks
Glue or tape
Instructions:

Unwrap your Rice Krispies Treats and place on counter. Cover the tops of the Rice Krispies Treats with chocolate icing. Be sure to cover the entire top.

Next, take your candy pumpkins and carefully position them on the Rice Krispies Treat. Once your pumpkins are positioned, you can work on your "stems."

Using the green icing, carefully weave a stem like pattern across the top of your pumpkin patch.

Finally, break your popsicle sticks in half (I used scissors). Once they are halves, take a marker and write 'Pumpkins 50' on one side of the stick. Then glue the sticks in the shape of a T. Allow the glue to dry.

Once the glue is dry, carefully push your signs into your pumpkin patch.

Be sure to download these hot digital coupons and head to Kroger, or a Kroger Banner Store between now and November 2nd to save big on Pringles Snack Stacks and Keebler Cookie and Cheez-It Variety Packs!

For more Halloween inspiration, visit the Kellogs social hub!

As always, if you enjoyed this recipe, be sure to RETWEET to share with friends and family, or REPIN to save for later!

Until next time,